Carl Perkins with his
'52/53 Les Paul
The 'Honey Don't' guitar.

Carl Perkins with his
'55 Les Paul w/Bigsby
The 'Blue Suede Shoes' guitar!

Carl Perkins with his
'56 ES-5 Swtichmaster
The 'Matchbox' guitar.
Carl Perkins CD tip.
There's a good CD with classic Carl Perkins recordings at the
Rockabilly CD
website.
By Vince Gordon
Carl Perkins at Sun
Carl Perkins played a '52/'53 Gibson Les Paul Gold Top with two P-90 Pickups and a "trapeze" tailpiece through a small Fender Amp when he recorded "Honey Don't" with "The Perkins Brothers Band" (Carl Perkins + his two brothers on upright bass (Clayton) and rhythm guitar (Jay) + W.S.Holland on drums).
The general understanding is that "Honey Don't" and "Blue Suede Shoes" were recorded at the same session (Sun 234 rel. 1/56). In fact he recorded "Honey Don't" first, several weeks prior to the "Blue Suede Shoes" session.
The guitar that Carl Perkins played on "Blue Suede Shoes" is also a Les Paul Gold Top but a '55 with a Bigsby. After "Blue Suede Shoes" became a hit, Carl painted the guitar blue and later his youngest son Greg Perkins painted it black. It's currently in Stan Perkins' vault in Jackson, TN.
In early '56, after the massive success of "Blue Suede Shoes", Carl Perkins purchased an $800 blonde Gibson ES-5 maple-top with three P-90 pickups with separate tone and volume controls for each. He also got himself one of the hand built EchoSonic amps from Ray Butts out of Cairo, Illinois for $250 down and $250 on delivery.
The "All Mama's Children" / "Boppin' The Blues" session (Sun 243 5/56) was his first recording date after he got his new ES-5. I've been told though, that he started recording with it on the later "Matchbox" (Sun 261 rel. 2/57) session and onwards.
He didn't trade in the "Blue Suede Shoes"-Les Paul when he bought the ES-5 but kept it. He used it again to record "Her Love Rubbed Off" where you can hear him using the Bigsby vibrato.
Carl Perkins' Gibson ES-5 is currently on display at the Rock & Roll Hall Of Fame in Cleveland.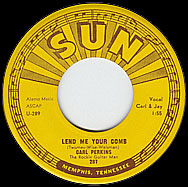 Carl's last single for Sun:
Sun 287 released 12/57.
Glad All Over/Lend Me Your Comb
Notice on the right it says:
Vocal Carl & Jay.
Carl Perkins' EchoSonic amp
From listening to his recordings it seems he used the EchoSonic for the first time - or at least the built in tape-echo for the first time - on "Glad All Over" / "Lend Me Your Comb", which was his very last single and session for Sun.
The guitar sound of Carl Perkins
It is important to notice that the split-second tape delay the Sun was famous for was never a part of Carl's sound and actually the echo from the EchoSonic amp didn't suit Carl's way of playing. Basically, if you want to sound like Carl Perkins, don't think echo.
When trying to define how Carl Perkins got his sound, it should also be noted that he loved turning the knobs on his LP and ES-5 to get different tones out of them. I guess that's why his guitar sound varies so much on his Sun recordings compared to Luther Perkins' (Played lead guitar for Johnny Cash) sound for instance.
Carl Perkins after Sun Studios
When Carl Perkins left Sun for Columbia in '58 he was still playing his ES-5 and Les Pauls (More than two – possibly three or four), so even though Carl Perkins has a reputation of having played 1000+ different guitars this is not the case with his most famous work that was recorded from late '54 to late '57 at Sun.
Carl Perkins' guitar closet
In Carl Perkins' later years he played a G&L Broadcaster (renamed ASAT Special in '85) strung with Dean Markley Blue Steel 9-42's strings. This was reportedly his ultimate favorite guitar. His preferred amp and rider requirement was the '66 Fender Twin and the Fender Pro Reverb.
Among Carl Perkins' other guitars were:
A 1995 Gibson Country Gentleman finished in 'Blue Suede' blue with an identification plate from Gibson/Nashville stating it's the only one of it's kind.
A 1998 Special edition "Go Cat Go" Fender Telecaster with Bigsby. The only one of its kind.
A sunburst Peavey T-25 that he used on the legendary "Carl Perkins and Friends - Blue Suede Shoes: A Rockabilly Session" TV show from '85 where he performed with his two sons, Stan (drums) and Greg (bass), George Harrison (Who plays original Carl Perkins solos on a 1957 Gretsch 6120), Eric Clapton, Dave Edmunds, Rosanne Cash and Lee Rocker and Slim Jim Phantom from Stray Cats among others. He also had a blonde T-60 and played Peavey amps as he was endorsed by Peavey at a time.
I asked Jerry Elston, who was in Carl Perkins' road band, why Carl changed guitars so many times, and Jerry's take on it was this:
"He changed guitars several times looking for a sound and a look. No guitar up until he got the G & L ever really suited him in my opinion. He would use different guitars for different sounds.
He liked the sound of the Strats but did not like the centre pick up or the three control set up. The pick up got in his way because that's where he did most of his playing. The 'comfort zone' as he called it. The Tele's gave him part of what he wanted but the G & L apparently brought it all home."