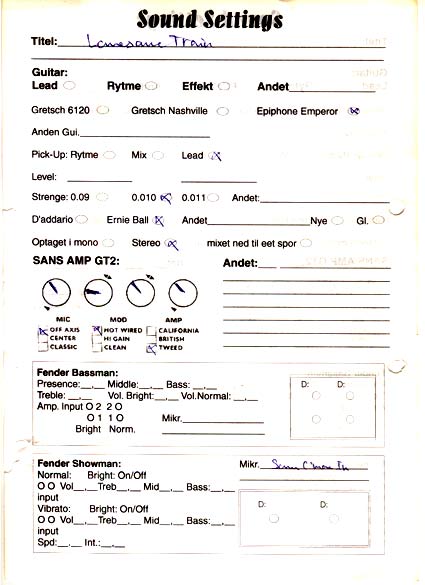 Here you see the recording sheet for the song "Lonesome Train" from the CD "It's Still Rock'n'Roll To Me" by my trio The Jime.
If you haven't got the album, you'll have to go buy it to hear the song (not that I mind =:-) 'cos I can't upload a song that I don't have the rights to.
The interesting thing about this set-up for most players is that I'm using the lead pick-up (bridge pick-up) which on my customized Epiphone is a vintage FilterTron pick-up.
That means (In my opinion) that you can compare this with the sound you'll get from most Gretsches (played in the bridge pick-up position of course).
If you were to finetune these settings you could get pretty close to the sound used by Brian Setzer or the sound used by Reverend Horton Heat for instance.
In short, these settings can give you a modern rockabilly sound.
It also says...
The strings were Ernie Ball 0.10 regular slinky.
The guitar was recorded through my 1968 Fender Showman exactly like "C'mon In".